Our team of migration experts will work with you to carry out Office 365 migration services by formulating a streamlined migration process that ensures zero business impact. We will perform a readiness assessment of the existing infrastructure by gathering and documenting requirements, developing a migration plan and executing against the plan to provide a seamless transition to Microsoft Office 365 Cloud architecture while maintaining secure and robust access to and from cloud services.
As your Office 365 cloud migration partner, we can effectively tackle all the complexities associated with migration by formulating a structured, risk-mitigated approach. Our migration framework encompasses the following stages
How Allianz Performs Office 365 Migration Process?
Pre-migration Considerations
---
Before plunging into the migration from Exchange 2007 to Office 365, our team of migration experts makes a precise plan considering the technical requirements and specific needs of the organization. Driving adoption is about comprehending the business challenges that address with solutions based out of Office 365.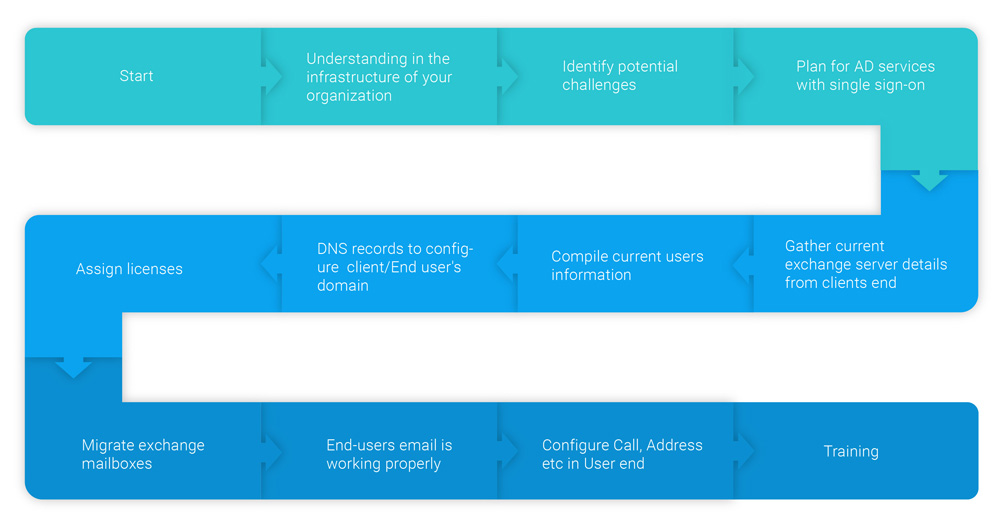 Migration Plan
---
Before plunging into the migration process our experts will work with you to devise a proper migration plan. We formulate a streamlined discovery and assessment, migration planning phase that lays the foundation for your migration's success. Our strategic planning encompasses the following
Building risk and issue tracking system
Developing notes to O365 migration strategy
Identifying the email coexistence strategy
Devising a plan for mail-enabled applications
Documenting all name-spaces and domain names moving forward – UPN, SIP domain. Identifying mailbox size and item counts
Identifying Active Directory preparation and remediation requirements
Identifying current network links, user concentration and utilization
Identifying the operating systems and client applications
Identifying the mobile platform used by the organization
Define user migrations in batches and document VIPs, managers, and associated admins
Migration Methodology
---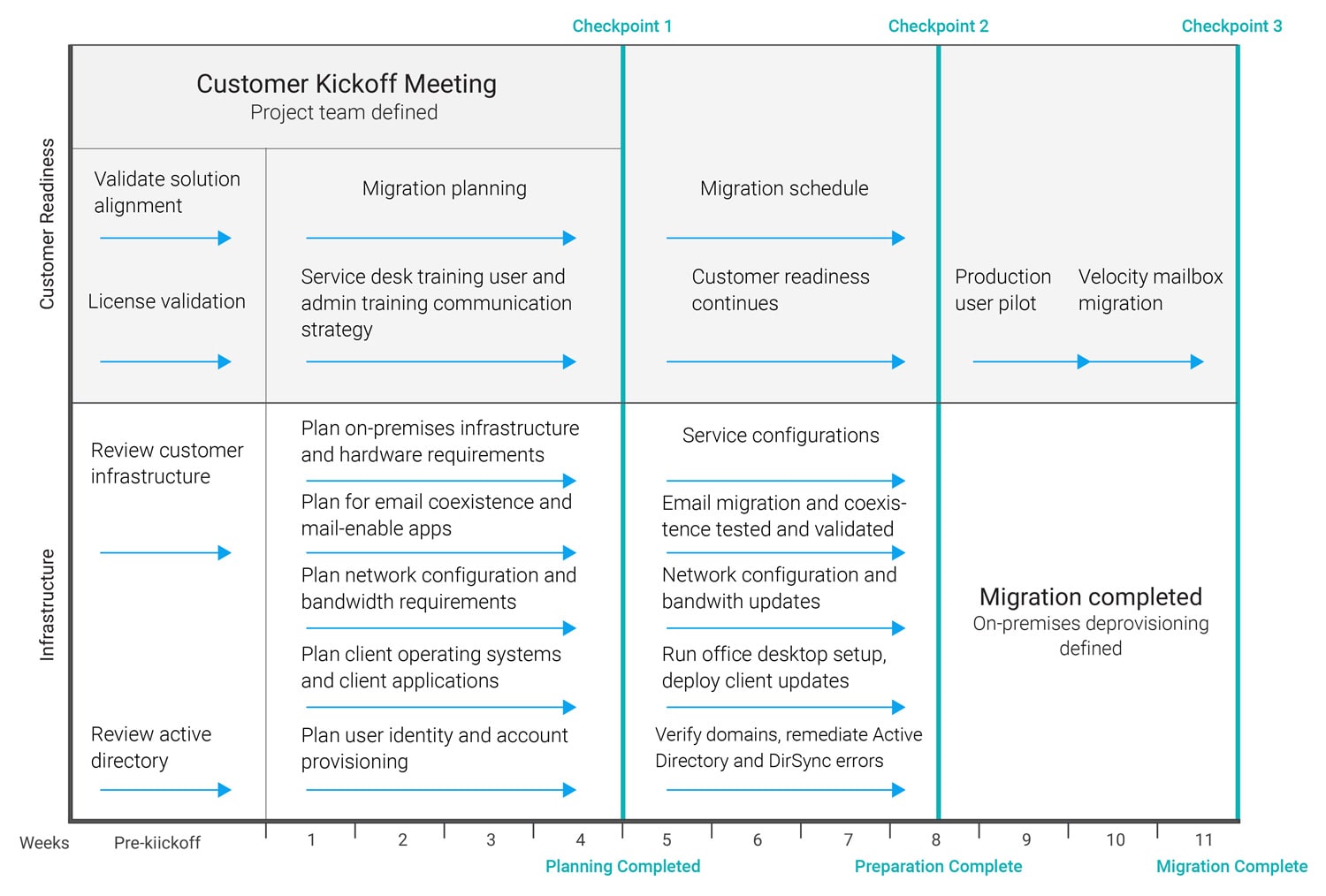 Existing Infrastructure Assessment
---
We also conduct a review of client systems to gather and capture information about the existing Exchange 2007 infrastructure. Existing infrastructure assessment helps in identifying gaps in the current ecosystem and delivers detailed recommendations to address the existing gaps. During this phase, we perform the following
Infrastructure Planning – (Mail Servers, File Share, Apps that use Exchange and Microsoft Office, Bandwidth, security)
Accessing the complexities and risks involved in this migration and pose solutions
SharePoint online – (users' private space and team sites)
User experience – (Office 365 web apps, Apps that use Exchange and Microsoft Office)
Mobile users – (Office 365 setup & capabilities)
Networking and Naming Services Planning
Determining environment for migration tools
Determine migration plan and examine current DNS records
Formulating a plan for Active Directory Federation Services for use with single sign-on
Collecting current server information and eventually develop a migration strategy
Identifying mailbox size and item counts that will be migrated to Office 365
Determining mail-enabled applications and plan for configuration
Conducting bandwidth assessment to calculate migration velocity for mailbox data
Compiling current users' information that will be migrated to O365 in the new global standard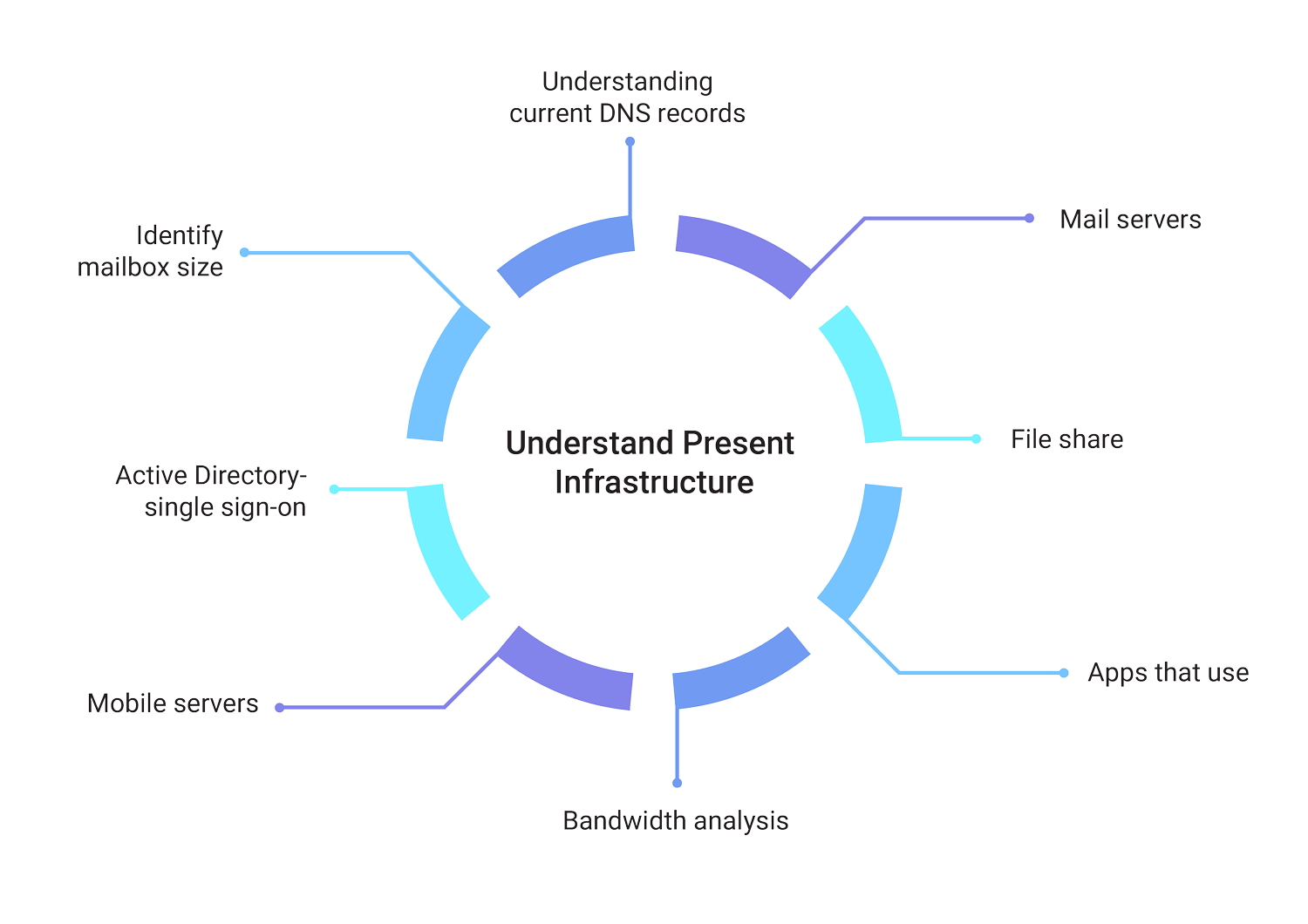 Preparation for an Office 365 Deployment
---
Are you ready for the deployment of Office 365 and take advantage of cloud-based productivity. Our team of experts fine-tunes the workflow to get the deployment up and running. Take a look at our Office 365 deployment checklist
Preparing end-user documentation on Outlook and the new Office 365 environment
Assist with Domain Verification and Office 365 Registration
Adding and verifying domain name with Office 365
Creating DNS records to configure the domain name for use with Office 365 services
Deploying and configuring Active Directory Services to enable single sign-on
Configuring on-premises AD for directory synchronization
Exchanging Online Service Configuration
Configuring email co-existence with existing server and Exchange Online
Mailbox quotas and archival / retention policies
Anti-spam and Malware protection in the new environment
Configuring client computers and end-user experience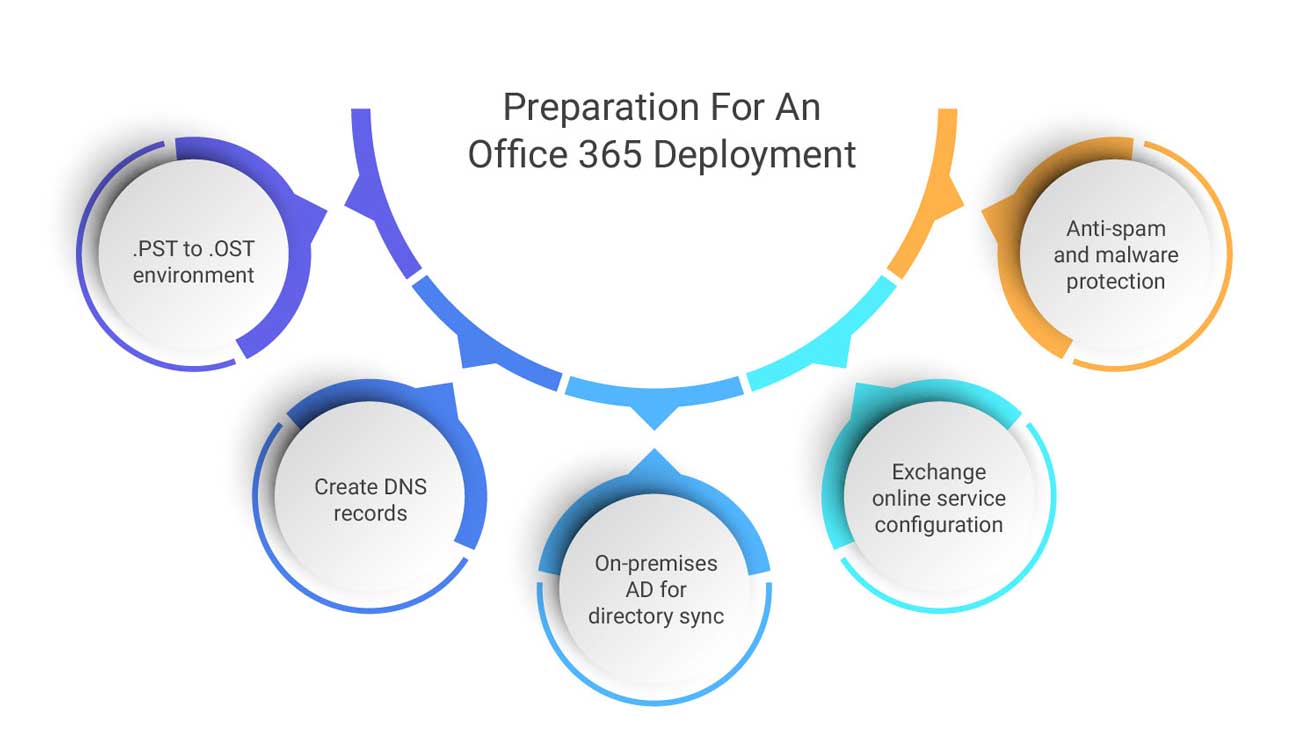 Migration
---
Allianz utilizes cutting-edge strategies to ensure a smooth rollout to Office 365 with 100% success. We ensure to perform a seamless migration by rectifying the underlying issues. We formulate the following migration checklist that aligns with the organization's specific requirements
Assigning licenses to users in O365
Migrating and synchronizing mailbox data to O365
Updating DNS to point to O365
Configuring Outlook Web Access and Exchange ActiveSync for mobile phones and devices where applicable for mailbox users
Migrating exchange mailboxes to Office 365 by batch/department
Monitoring and validating migration tool results
Validating exchange online functionality
Re-run migration for failed files and folders Archive non selected files
Perform Post-migration Service Testing of Office 365 functionality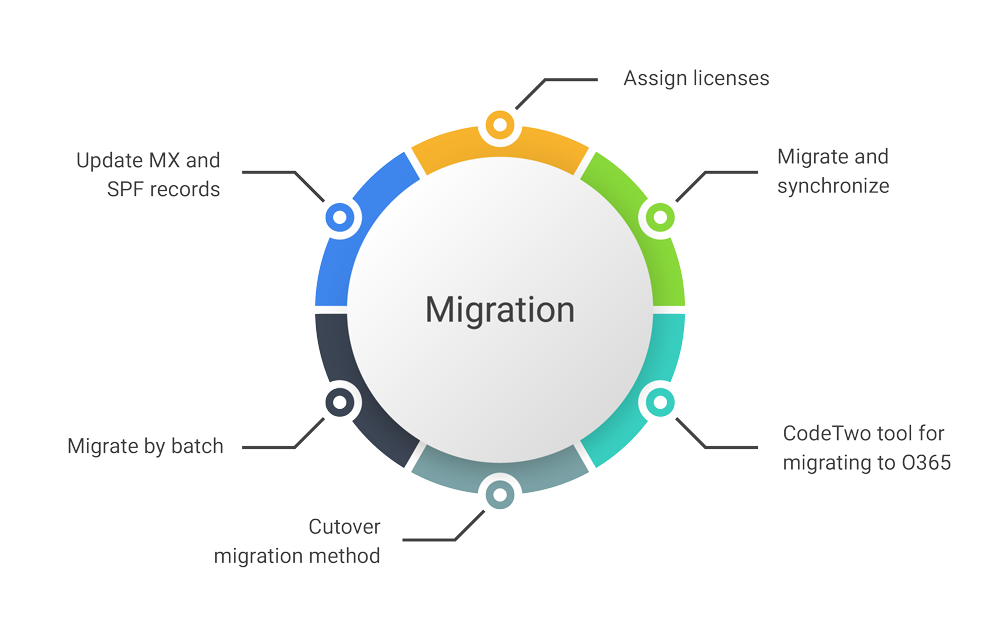 Cutover Migration WorkFlow
---
Cutover migration method forms an important step for successful migration and it requires careful planning. Cutover migration enables to migrate all of the organization's mailboxes all at once. Considering the substantial risk and complexity of cutover migration, Allianz formulates a proven Cutover migration workflow and ensures the tasks to get executed in the right order by the right team, right tools and in the right workstream.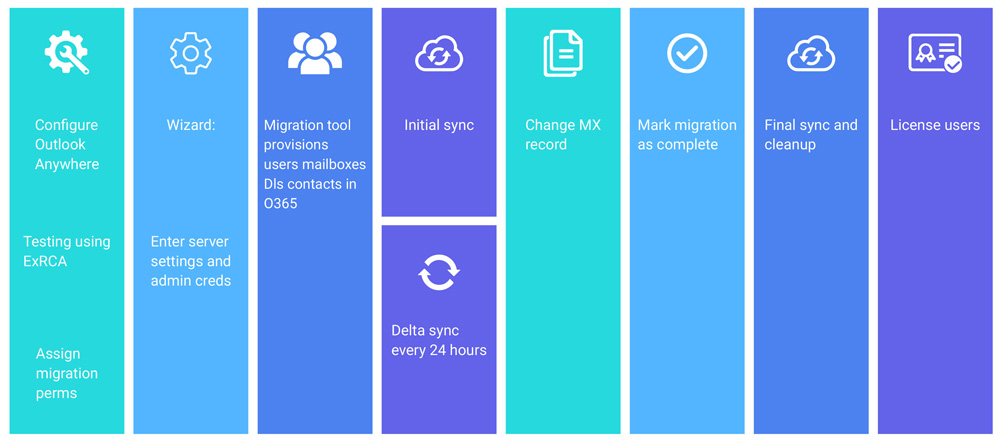 QA & UAT
---
We carry out Quality Assurance and User Acceptance Testing to make sure that the new process meets the user requirements in the real-world scenarios. We ensure to perform complete testing on the following
Ensure end-user email is working properly and emails, calendars, and contacts have been migrated
Ensure end -users can access, edit and upload all kinds of files to the cloud-based on security access
Ensure that all documents with links are working properly
Ensure that all applications that use Exchange Online and Microsoft Office are working properly in all the devices with Microsoft supported compatibility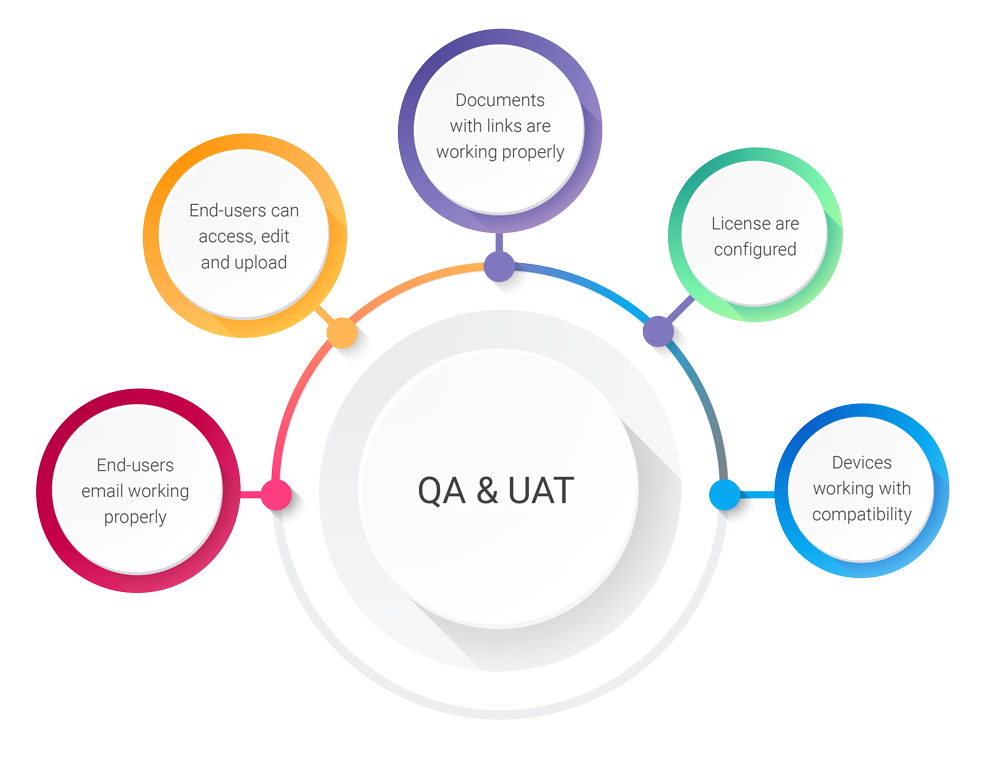 Training
---
Before we sign off the project, we offer a training program so that the organization can effectively utilize the new technology we have applied. Our training program covers the following
Office 365 users training with the department
New file organization users training
Provide client computers support on configuration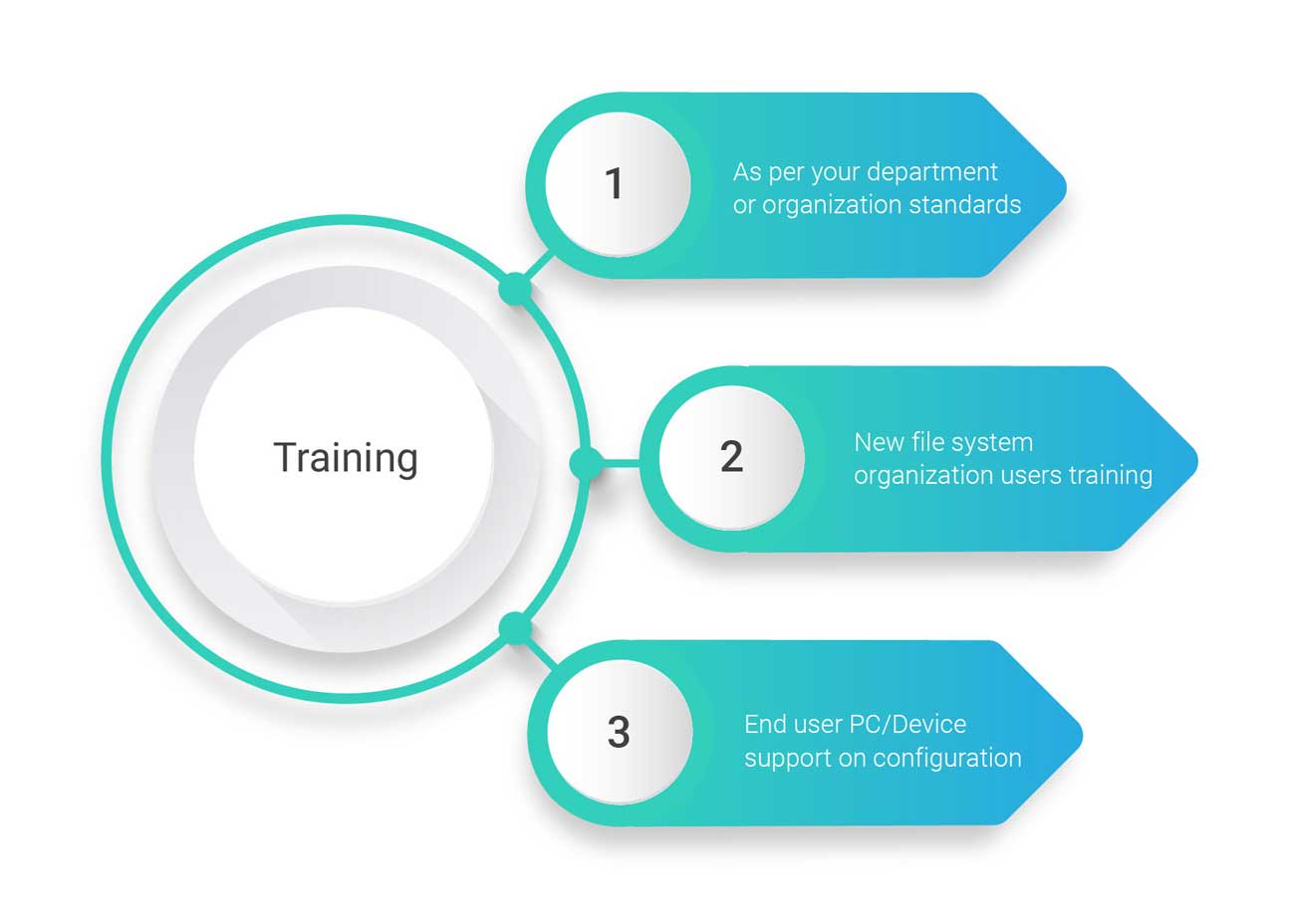 Documentation
---
We prepare a precise documentation report which acts as a reference guide to know everything about the migration project. This helps to take remedial actions in case of any issue that arises in the future.